It was only a matter of time. Justin is a Trudeau. We always knew he had a dark side. It was only a matter of time.
It appears that, while trying to conduct a vote on the government's assisted dying bill, some NDP members of parliament were deliberately blocking the way of Conservative Whip Gord Brown. Tensions escalated and Prime Minister Trudeau strode to the center of the House and saved Mr. Brown by pulling him away. In the process, he elbowed NDP MP Ruth Ellen Brosseau.
History remembers the pivotal strikes that led to devastating conflict. The Nazi invasion of Poland in 1939. The fall of Constantinople in 1453. The untimely fate of Charles the Good, Count of Flanders in 1127. Today…on this fateful day, Prime Minister Justin Pierre James Trudeau of Canada declared war. The House of Commons was helpless.
"Elbowgate", or more appropriately, "Chesticide" took everyone off guard. Usually when people want to stop a deliberate blocking of a vote, they just call the accused Ted Cruz.
Our representatives, media figures, business leaders, innovators, great philosophers, and countrymen took to Twitter to denounce the aggression of Attila the Hun Justin Trudeau.
Just witnessed shocking physical bullying by the Prime Minister on the floor of the House of Commons #shame #notafeminist #cdnpoli

— Randall Garrison (@r_garrison) May 18, 2016
#BecauseIts2016
Really @aCoyne? That was an accident? That's mob street fighting tactic 101. This will stick with #Trudeau for life. https://t.co/Zs1QR8rCuX

— (((Tarek Fatah))) (@TarekFatah) May 18, 2016
Trudeau only ever knew a rough-and-tumble life on the streets. You should see his one-man performance of West Side Story.
The NDP is not actually trying to group this with wife-battering, is it? OH YES IT IS…

— Andrew Coyne (@acoyne) May 18, 2016
This is serious, Andrew.
Hey guys. Been a bit busy. What's been going — OH MY GOD.

— Andrew Coyne (@acoyne) May 18, 2016
That's more like it.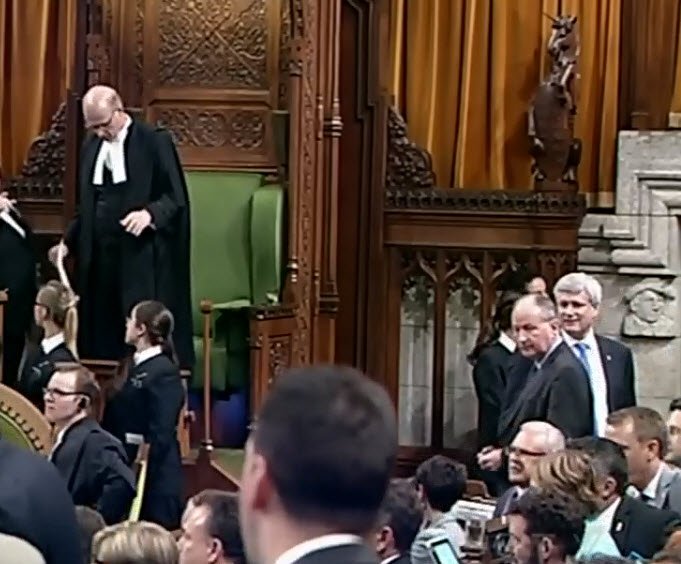 Even Mulcair, former-current-former leader of the NDP gave the Prime Minister a barrage of verbal grilling. It's good to see old Tom back.
Meanwhile, former Prime Minister Harper stood in the corner of the House looking like he was a little happy that he wasn't the leader of the country anymore.
Other responses include MP Peter Julian comparing Trudeau's actions to when his beloved aunt was mercilessly beaten, or the tried-and-true "we just joined third world unruly parliaments."
and thats how the Conservative NDP party of Canada was born

— Jane Lytvynenko (@JaneLytv) May 18, 2016
When we look back on the fall of the nation, and on the public's naivety when electing the most aggressive dictator in history, we will remember things like this. I thought we would have learned from history by now. Alas, we are doomed to repeat it.